BSAC invited to Our Baltic 2.0 Conference
The European Commission organised the 2nd edition of the Our Baltic Conference in Palanga (Lithuania) on 29th September 2023. This high-level event brought together ministers from the 8 EU countries surrounding the Baltic Sea and the EU Commissioner for Environment, Oceans and Fisheries. They looked at what has been achieved since the first Our Baltic Conference in 2020, and what still needs to be done.
The main topics were:
environment & fisheries – progress made on the actions announced in the Ministerial Declaration of the 2020 Our Baltic conference
economic activities linked to the sea ("blue economy") – finding ways to allow activities at sea to flourish (e.g., offshore renewable energy, aquaculture, bioeconomy, etc.)
unexploded munitions.
The BSAC ExCom Chair took the floor during the 3rd  Roundtable Session dedicated to Sustainable Blue Economy matters. He presented the BSAC perspective on the concrete steps needed to unlock the barriers to the energy transition in the fisheries and accelerate the transformation towards climate neutrality.
During his intervention the Chair highlighted that:
• Baltic fisheries must, like all industry sectors contribute to reducing emissions, and this should happen throughout the entire value chain.
• The economic situation for fisheries is depressed due to adverse environmental conditions and often very limited fishing opportunities in the Baltic Sea and no options to fish somewhere else; hence investments in new technologies would
be risky and predominantly limited to mature technologies. Diversification of activities will play a role in overcoming these challenges.
• Member States must support the transition by helping with the necessary land-based infrastructure and funding for new technologies. The Commission and Member States should make public funding more accessible.
• Pilot projects should be launched to test new technologies; recall that because of the predominance of small fishing vessels in the Baltic, there are especially good opportunities to work with small scale fleet segments and to gather experience in sheltered coastal waters, without excluding any segment of the fleet.
• The Commission should reconsider the rules relating to overcapacity and capacity ceilings which many BSAC members perceive as a major challenge to energy transition; for some fleet segments exit schemes could be an efficient way to reduce emissions.
• Shortly BSAC will address a full set of recommendations on energy transition to the Commission and to Member States.
Find here the full speech of the Chair.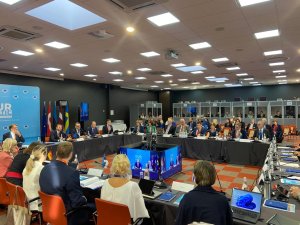 ---
Date Posted: September 29, 2023